It's time to announce something really big!
Together with Ingo, founder of the Rad Race, I worked the last two month to organize a very special journey. Both of us where dreaming of a tour like this for long and it was time to finally realize it.
TOUR DE SKANDINAVIA 2014
We will ride from Hamburg to Oslo in 9 days and sleep in our Heimplanet tents between every stage.
Our crew consists of sixteen people and thirdteen of them will ride the approx. 1200km on their road bike or track bike. The rest of our crew will follow in our tour van and take care of us and the equipment. We will also try to document the tour as good as possible with our cameras and hope to get back with some nice visuals for you.
This is going to be a really interesting experience, a challenge for everyone of us and a beautiful journey with stunning landscapes. Riding with the nature and see what it has to offer, no matter if it's rain, wind or sunshine. On 1st of September we start the tour in Hamburg, will ride our way on the west coast of denmark and arrive in Frederikshavn, there we cross over the Kattegat with a ferry and reach Göteborg. The tour continues on the west coast of Sweden, we cross the Oslofjord and finish right in the heart of Oslo.
Check out this graphic to get a idea about our route.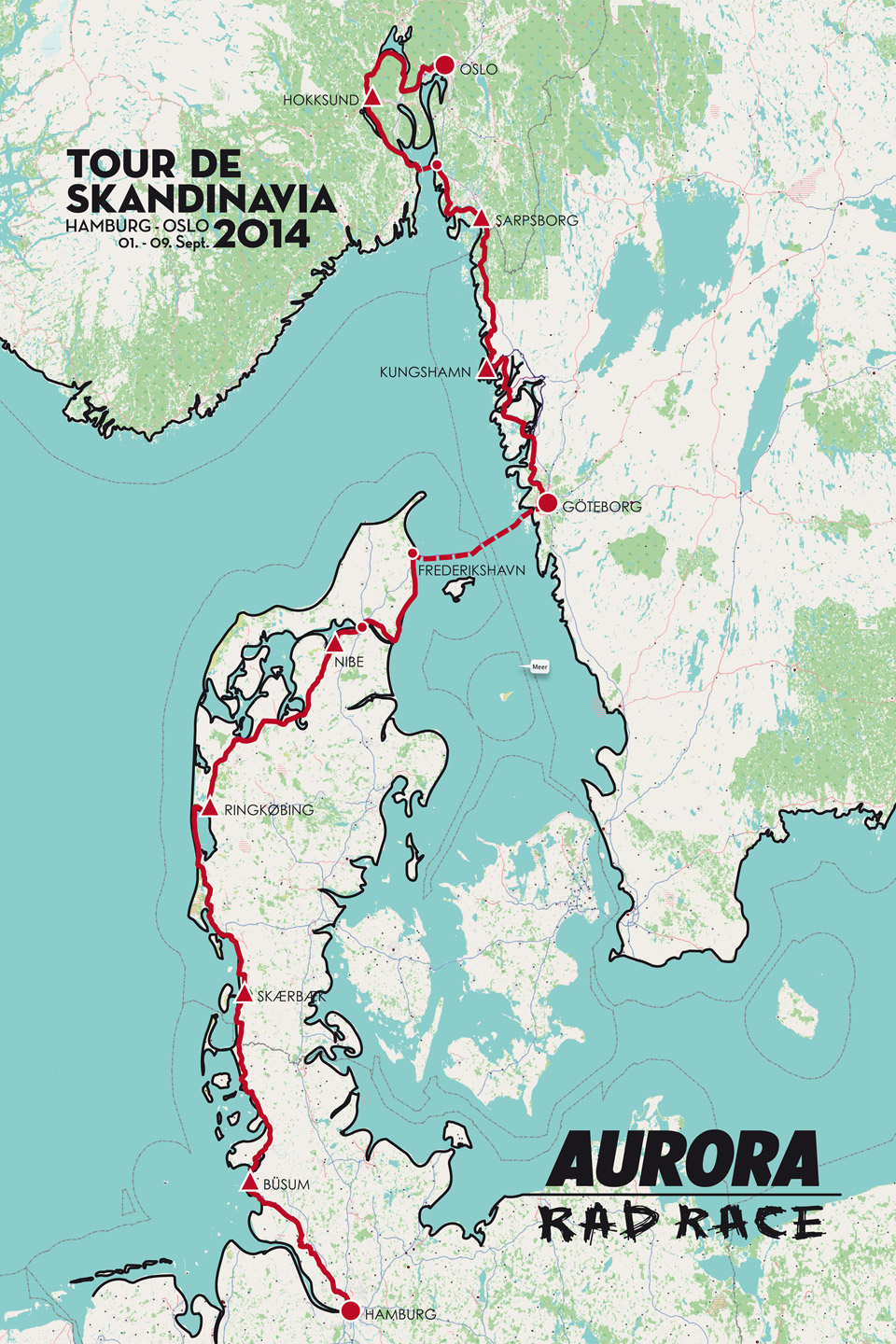 These are the scheduled stages, if you are around somewhere, contact us and feel free to join us!
1. Stage – 01.09.14: Hamburg – Büsum / 117 km
2. Stage – 02.09.14: Büsum – Skaeberg / 151 km
3. Stage – 03.09.14: Skaeberg – Ringköbing / 137 km
4. Stage – 04.09.14: Ringköbing – Nibe / 167 km
5. Stage – 05.09.14: Nibe – Frederikshavn/Göteborg / 109 km
6. Stage – 06.09.14: Göteborg – Kungshamn / 158 km
7. Stage – 07.09.14: Kungshamn – Sarpsborg / 143 km
8. Stage – 08.09.14: Sarpsborg – Hokksund / 140 km
9. Stage – 09.09.14: Hooksund – Oslo / 105 km
Besides a lot work and our privat effort, we are very happy that some friends/companies help us out with gear and support. As mentioned above – Heimplanet takes care of our sleeping-place, Ahrberg covers us with eco-friendly cycling accessories, together with Bioracer we produced our limited Tour de Skandinavia Teamkit, CLIF Bar provides us with the best energy bars available and helps us to keep our stamina during every stage, Kenda supplies us with all the rubber we need and last but not least Bombtrack provides us with two of their bikes!
We can't wait and just want to get on our bikes and start this tour.
During the whole tour you will find updates, pictures, thoughts and much more in the AURORA blog.
Follow us on our journey!
Sebastian
—
For more updates also follow AURORA on facebook , AURORA on instagram and of course Rad Race of instagram